This Code of Ethics and Conduct sets out legal and ethical standards for Members and Officers of AAPDB. This Code is intended to deter wrongdoing and to promote the ethical conduct of all AAPDB business.
Members shall read and understand their legal obligations under the relevant Codes of Practice and Legislation relating to the ethical breeding of dogs in their Local Government Area, State or Territory and with the AAPDB Veterinary Audit or Code of Ethics and Conduct.
1. Compliance with Laws, Rules and Regulations
1.1  AAPDB requires that all Members and Officers comply with all laws, rules and regulations applicable to the ethical breeding of dogs. You are expected to use sound judgement and common sense to comply with all applicable laws, rules and regulations. Where there is a conflict of requirements, the more stringent standards will apply. By applying for Membership with AAPDB you agree to abide by these requirements.
1.2  Membership applications (new, probationary & renewal) must be accompanied by current personal photo identification and members agree to allow their property to be inspected by an independent Veterinarian as a requirement of annual membership audit and within three (3) months of date of becoming a Probationary Member.
1.3  If you become aware of the violation of any law, rule or regulation by the AAPDB, whether by its Members and Officers, or any third party doing business on behalf of the AAPDB, it is your responsibility to promptly report the matter to your supervisor.
2. Conflicts of Interest
2.1  Members and Officers must act in the best interests of the AAPDB. You must refrain from engaging in any activity or having a personal interest that presents a "conflict of interest." It is your responsibility to disclose any transaction or relationship that reasonably could be expected to give rise to a conflict of interest.
3. Confidentiality
3.1  Members and Officers must maintain the confidentiality of confidential information entrusted to them in their capacity with AAPDB. Unauthorized disclosure of any confidential information is prohibited. Additionally, Members and Officers should take appropriate precautions to ensure that confidential or sensitive business information, whether it is proprietary to the AAPDB or a Member, is not communicated within the AAPDB except to Officers who have a need to know such information to perform their responsibilities. 
4. Honest and Ethical Conduct and Fair Dealing
4.1  Members and Officers should deal honestly, ethically and fairly with the AAPDB's suppliers, clients, competitors and members. Statements regarding the AAPDB's services must not be untrue, misleading, deceptive or fraudulent. You must not take unfair advantage of anyone through manipulation, concealment, abuse of privileged information, misrepresentation of material facts or any other unfair-dealing practice. 
5. Protection and Proper Use of Corporate Opportunities 
5.1  Members and Officers must advance the AAPDB's legitimate interests when the opportunity to do so arises. You must not take for yourself personal opportunities that are discovered through your position with the AAPDB or the use of property or information of the AAPDB.
6. Accuracy of Books and Records and Public Reports 
6.1  Members and Officers must honestly and accurately report all business transactions. You are responsible for the accuracy of your records. Accurate information is essential to meet legal and regulatory obligations.
7. Reporting and Compliance Procedures 
7.1  Every Member and Officer has the responsibility to ask questions, seek guidance, report suspected violations and express concerns regarding compliance with this Code. Any Member or Officer who knows or believes that any other Member or Officer of the AAPDB has engaged or is engaging in AAPDB-related conduct that violates applicable law or this Code should report such information to AAPDB Committee.
7.2  Such reports should be made without any fear of retaliation. The AAPDB will not discipline, discriminate against or retaliate against any Member or Officer who reports such conduct (unless it is found that the report was made with knowledge that it was false) or who cooperates in any investigation or inquiry regarding such conduct.
8. Member Code of Conduct Requirements 
AAPDB has provided a Manual detailing the requirements for Members in the operation of ethical breeding of dogs.  The following Code of Conduct requirements is not an exhaustive list and is to be read in conjunction with the AAPDB Manual, and relevant Local Government, State and Territory regulations and legislation as applies to the ethical breeding of dogs.
8.1  Animal Husbandry Requirements
8.1.1    From 1 July 2019 it is Mandatory that all dogs kept for Breeding must be Genetically Tested for genetic disease and health conditions. Refer Genetic Testing Policy & Procedure.
8.1.2    Members shall ensure that their dogs are under effective control at all times.             
8.1.3    Members shall feed their dogs an appropriate, balanced diet.
8.1.4    Members shall keep their dogs appropriately vaccinated, groomed and free from parasites.
8.1.5    Members must have all breeding dogs Genetically Tested for preventable genetic disease prior to breeding. AAPDB recommends Members use Orivet Genetic Pet Care.
8.1.6    Members must vaccinate all puppies but no younger than 6 weeks.
8.1.7    Members shall seek veterinary attention promptly for animals showing symptoms of illness.
8.1.8    Members shall not house their dogs in cages for any reason other than transport, breeding or treatment.
8.1.9    Retired dogs must be desexed and rehomed or kept as pets.
8.1.10  Members shall not euthanise retired breeding dogs.
8.1.11  Euthanasia of dogs may only be performed by a qualified Veterinarian in the case of:
            – intractable behavioural problems that preclude dogs from being used for breeding or rehomed as pets.
            –  painful or life threatening health problems that detract from the dog's quality of life.
8.1.12  Members may house breeding dogs in a Foster Carer/Guardian home. The Member owns and takes responsibility for the breeding and welfare of these dogs. The Member is fully responsible for the sale of puppies and is to provide a Foster Carer/Guardianship care contract clearly outlining responsibilities of all parties. 
8.2  Sales
8.2.1    Members shall not allow their Membership Number to be used by another person.
8.2.2    Members shall never sell a puppy younger than 8 weeks of age.
8.2.3    Members should sell their puppies either desexed at least  7 days prior to departure or with a desexing voucher of $50 (minimum) refundable on proof of desexing.
8.2.4    If selling puppies to a Pet Store, it must be a member of Pet Industry Association of Australia or Pets Australia and offer desexing vouchers with all puppies.
8.2.5    Members may not act as brokers or retailers unless this is fully disclosed to buyers and the puppies are sourced from full members of AAPDB.
8.2.6    Members shall not sell puppies to people under the age of eighteen(18) years.
8.2.7    Members shall not sell puppies at shows, fairs or street stalls.
8.2.8    Members shall accurately describe the breeding of the puppies they sell.
8.2.9    Members shall offer a 3 day 'cooling off' period during which puppies can be returned for refund of purchase price, excluding non-refundable deposits and transport costs.
8.2.10  Members shall provide new owners with information on feeding, veterinary care and training of the puppy.
8.2.11  Members are responsible for any illness present at the time of sale of the puppy. If known this is to be disclosed, contract and price negotiated in accordance. If discovered after new owner has possession, the Member shall be responsible for verified veterinary expenses to a maximum amount equal to the purchase price.
8.2.12  Members must accept responsibility for preventable, testable genetic or congenital health problems arising in the first 18 months of the dog's life. On presentation of Veterinary diagnoses the breeder shall pay verified veterinary expenses up to the purchase price of the puppy or may replace the puppy or accept return of the puppy for full refund of purchase price.
8.2.13  Members must provide a written sale agreement detailing the puppy's breed, breeding of parents, microchip, vaccination and worming status. It should outline, any genetic health testing that has been undertaken, and the returns policy and when refunds will be offered.
8.2.14  Members must undertake to take back or rehome any dog they have bred at any stage in the animal's life should it become homeless for any reason.
Members shall read and understand the legal obligation they have through the relevant Codes Of Practice relating to dog breeding in their State or Territory.
From the 1st July 2019, it is a requirement of the AAPDB that all members dogs are genetically tested for known preventable genetic or congenital health problems specific to their breed, and mating's should be planned to minimise the risk of the dog's being affected be genetic disease.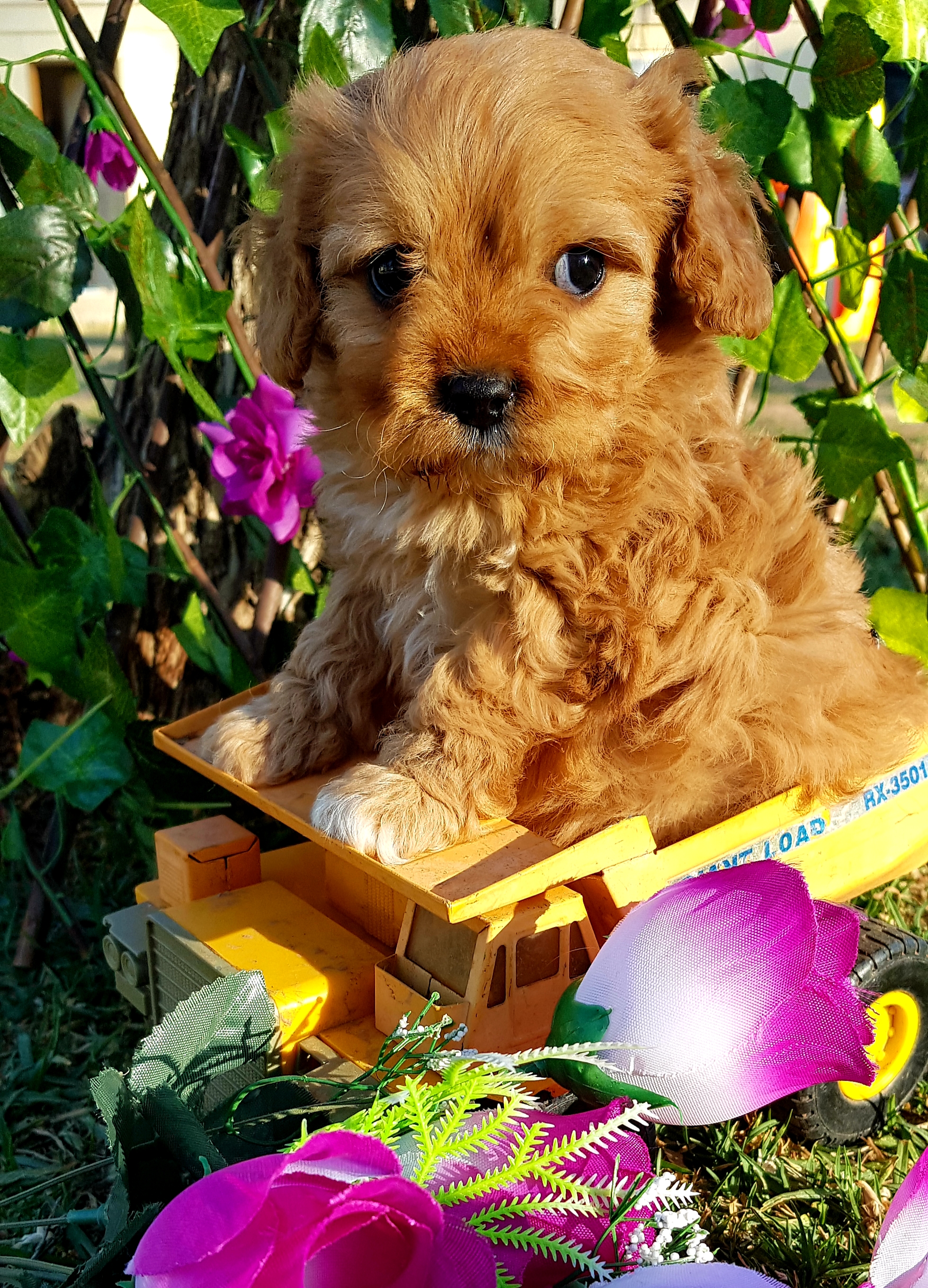 Members must accept responsibility for known testable preventable genetic or congenital health problems arising in the first 18 months of the dog's life, 
Members will sell their puppies desexed or with a minimum $50 desexing voucher.